It's official - Abbey Woods is a GOOD school!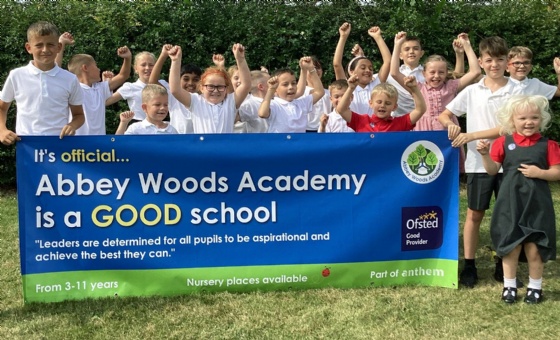 We are extremely proud to announce that following the school's latest Ofsted inspection, Abbey Woods Academy is officially rated as a GOOD school in all areas.
As a school, our CARE values of Community, Aspiration, Respect, and Equality shape what happens in the classrooms and our school community every day, and we are delighted that this has been recognised during the inspection.
During their two-day visit on 27 and 28 June, the inspection team found that:
Pupils are happy and motivated to try their best because leaders have created a culture which promotes and celebrates achievement.
This can be seen in the enthusiastic way children take part in lessons and the wide range of different experiences and activities on offer at Abbey Woods, and the extent to which they look forward to weekly celebration assemblies where their work and achievements are recognised. One parent told inspectors: "The school is such a positive and encouraging environment for my children."
Commenting on Ofsted's findings, Headteacher Sophie Charter said:
"This report recognises the tremendous effort everyone has made to ensure Abbey Woods is a place where children grow and thrive – its publication is a very significant moment for our whole school community. This magnificent outcome is down to the hard work and determination of the staff, pupils, and families, and I am immensely proud of what we have all achieved together."
Everyone in our school community should be immensely proud – go Team Abbey Woods!
Click on the image below to read the full report.